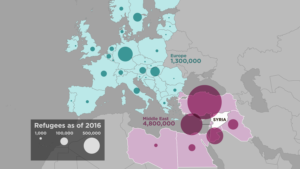 In the past five years, nearly half of Syria's population is thought to be displaced or killed. The civil war that has erupted there is an extremely complicated situation that began in 2011. As the country has descended into civil war, the nation's residents have been caught in the middle of a war with many participating factions.
In all, more than 1 million people have fled to Europe while over four million Syrians have made their way to cities in neighboring countries. This crisis has resulted in millions and millions of Syrians without a home and no prospects of returning in the near future.
How do refugees get to the United States?
Potential refugees first apply for refugee status through the United Nations High Commission for Refugees (UNHCR), the international body in charge of protecting and assisting refugees.
The UNHCR essentially decides who merits refugee status based on the parameters laid out in the 1951 Refugee Convention, which states that a refugee is someone who "owing to a well-founded fear of being persecuted for reasons of race, religion, nationality, membership of a particular social group or political opinion, is outside the country of his nationality, and is unable to, or owing to such fear, is unwilling to avail himself of the protection of that country."
If it's demonstrated that the refugee in question meets the above conditions, the applicant may be referred by the UNHRC for resettlement in a third country, such as the United States, where he or she will be given legal resident status and eventually be able to apply for citizenship.
After the UNHCR refers a refugee applicant to the United States, the application is processed by a federally funded Resettlement Support Center, which gathers information about the candidate to prepare for an intensive screening process, which includes an interview, a medical evaluation and an interagency security screening process aimed at ensuring the refugee does not pose a threat to the United States.
The average processing time for refugee applications is 18 to 24 months, but Syrian applications can take significantly longer because of security concerns and difficulties in verifying their information.
Once they've completed that part of the process, the refugee is paired with a resettlement agency in the United States to assist in his or her transition to the country. That organization provides support services, such as language and vocational training, as well as monetary assistance for housing and other necessities.